Arrival to Hungary
Let this page be your guide to your arrival at Budapest airport!
Special entry requirements due to COVID-19
From 1 September 2020, all countries of the world are classified unsafe to travel to/from by the Hungarian authorities. This measure is to protect all residents from the spread of the Coronavirus. Please be mindful of this and do NOT engage in unnecessary international travel (not even within the EU!!!) until further notice!
Students at Hungarian universities can still enter Hungary despite the ban. However, there are strict rules regarding it! In these volatile times, rules and regulations may change overnight, so please keep an eye on Hungarian news.
As soon as you arrive you have to fill out the "E088 COVID-19" request in Neptun. The university has to know when your quarantine ends and where you are staying. If you already arrived and did not fill out the request yet, please fill it out nonetheless. Submitting the request is necessary in order to get your scholarship.
All students are subject to a 10-day-long mandatory home quarantine at your Hungarian address. The university cannot provide you with a place to spend your quarantine, hence we strongly advise you to arrange accommodation for yourself before arriving! Online grocery shopping and deliveries work perfectly in Budapest, so you will not face any needs. We have collected a list of online grocery shops and food delivery applications.
Quarantine period can be made shorter. For this, an e-mail must be sent to the responsible public health centre based on the district of your quarantine accommodation. For details, please refer to our guide, which 

also contains information about where you can make tests and how much it costs.
RULES FOR ALL STUDENTS
Before your arrival, make sure you complete the following steps:

If you have a valid residence permit, make sure you bring it with you. If you are a new student or your residence permit has expired, apply and wait for a D-type visa if it is a requirement from your country. Students from Brazil should apply for a D-type visa as well.
Download, fill in and print the "Certificate to enter Hungary" (you can find it in Neptun), according to this page.
Print your Letter of Acceptance.
Request and print a student status certificate (E999 request on Neptun).
Arrange quarantine accommodation if your long-term accommodation is not suitable for self-isolation.
Submit a leniency form on the Hungarian Police's website

:

https://ugyintezes.police.hu/en/uj-ugy-inditasa

We have prepared a

guide

for it, but now it is available in English, too!

If you cannot arrive to Hungary by 7 February 2021, please fill in the  E022 request on Neptun!

If you want to enter Hungary, you will need the following documents at the border:

Residence permit or D-type visa
Student status certificate (from Neptun)
Certificate to enter Hungary (from Neptun)
Letter of Acceptance
Also, if you live in a dorm, you have to make sure that you can spend your mandatory 10-day-long quarantine elsewhere! Do not even attempt to come to any of our dorms, because you would be risking all residents' and dorm workers' health and safety.
To stay up-to-date with the latest updates on preventive measures by the Hungarian government, please refer to http://abouthungary.hu and
http://www.police.hu/en/content/information-on-general-rules-of-border-crossing!
At the airport
Unfortunately, due to COVID-19, we will not be picking first-year students up at the airport this year. However, you can use the video below to help you navigate in the city upon your arrival. Bear in mind that the videos were shot a year ago and because of that the schedule of Metro 3 (and that of its replacement buses) has changed somewhat!
How to reach your accomodation from the airport

You can get a Taxi from the aiport, it is around 20-25 EUR or 6000 HUF.

You can catch the Minibus from the aiport, if you are 3-4 with your friends it is cheaper: https://www.minibud.hu

You can use public transportation. You have to buy at least a transfer ticket (530 HUF)
Public Transportation
Option A: 
It takes around 60-65 minutes to get to either Visit Hostel, or Kocsis Dormitory. A simple transfer ticket is enough which costs 530 HUF, which is around €1.60. 
From Liszt Ferenc International Airport, you have to take bus 200E to Nagyvárad tér station (this is the last stop).

From  Nagyvárad tér station you have to take Metro 3 (or Metro 3 replacement bus at the weekends) and change to Metro 4 at Kálvin tér station.

for 

Visit Hoste

l you have to get off at Móricz Zsigmond Körtér. The hostel is a 2-3 minute walk from the station.

for 

Kocsis Hostel

you have to travel two more stations until Bikás Park.  The hostel is a 7-8 minute walk from the station.
Option B: 
It takes around 50-55 minutes to reach either Visit Hostel, or Kocsis Dormitory. It is a slightly faster and less complicated way, but it is a bit costlier. You will need to purchase a special single ticket for the bus 100E and another single ticket. They will cost you 1250 HUF altogether, which is around €4.
1. From Liszt Ferenc International Airport, you can take bus 100E to Kálvin tér station.
2. Change to Metro 4 and refer back to Option A!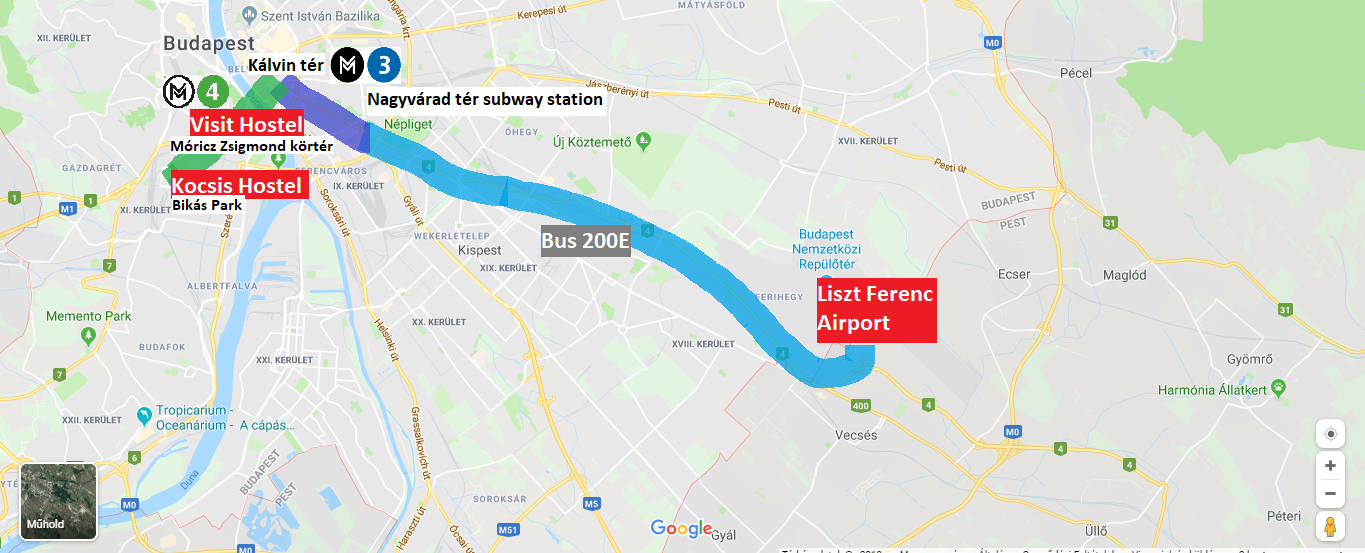 From Móricz Zsigmond Körtér you have to walk 3 minutes as you see on the map below.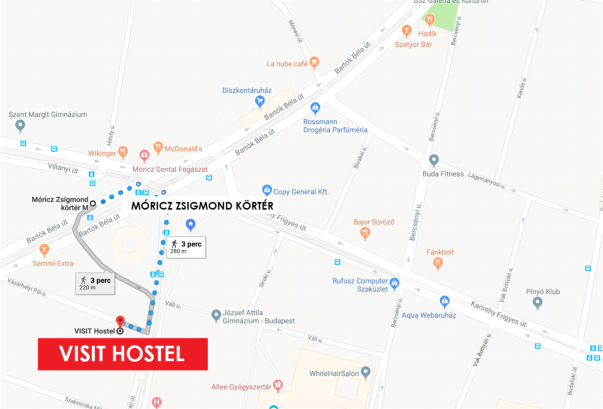 From Bikás Park Metro Station you have to walk 7 minutes as you see on the map below.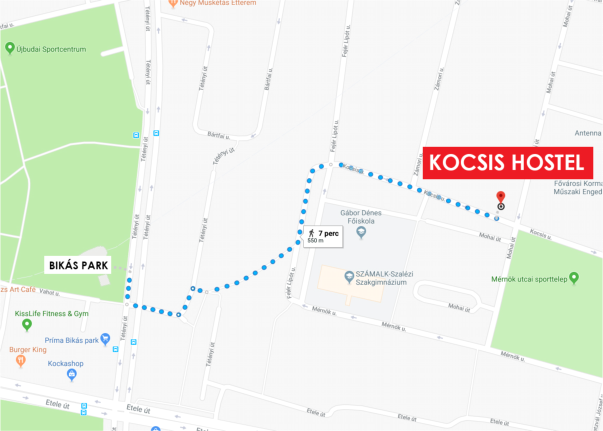 First steps
Once you arrive, you will probably need to get a Hungarian phone number. There are three major network service providers: Telekom, Telenor and Vodafone. All three of them have similar quality and prices, so the choice between them is down to personal preference. Telekom and Vodafone also provide broadband, so if you are movong to a flat, you may get a better bundle deal with them.
Contact us
If you have any questions please check the FAQ or contact us using the form below! We aim to provide answers as detailed as possible, which can take some time. Please be patient, we cannot respond instantaneously.