Arrival to Hungary
Let this page be your guide to your arrival at Budapest airport!
Special entry requirements due to COVID-19
UPDATED: 2021.09.25.
Because of the pandemic, there are special entry rules to Hungary. Please read this page carefully, and act accordingly before your arrival.
Students at Hungarian universities can still enter Hungary despite the travel restrictions. However, there are strict rules regarding it! In these volatile times, rules and regulations may change overnight, so please keep an eye on Hungarian news. To stay up-to-date with all the rules, please refer to the website of the Hungarian police or AboutHungary! The website of the police is being updated regularly, make sure you read it carefully before your arrival.
Quarantine: 
All students

are subject to a

10-day-long mandatory home quarantine

at their Hungarian address. 

The

university cannot provide you with a place to spend your quarantine, hence we strongly advise you to arrange accommodation for yourself before your arrival! You can learn about the requirements for the quarantine accommodation here.
We have collected a few places where you could spend your quarantine. You can find this list here.

Online grocery shopping and deliveries work very well in Budapest, so you will not face any needs. We have collected a

list

of online grocery shops and food delivery applications. 

If you wish to change your quarantine address, you must send an email to the police headquarters of your district. The email address of the police is: "xx"rk@budapest.police.hu, where "xx" is the number of your district (e.g.: 2nd district 02rk@budapest.police.hu). The number of your district is the two middle digit of your zip code (e.g.: 1027 – 2nd district).
Quarantine period can be shortened by taking two PCR tests with negative results at least 48 hours apart within 5 days. For this, the test results must be submitted through the website of the police. You have to choose the "Submissions related to the epidemic control measures" option and the relevant submenu.

There are three ways

to get

exemption from quarantine:

having a

valid Immunity Certificate from one of the following countries: Hungary, Albania, Bahrein, Cyprus, Czech Republic, North Macedonia, Georgia, Croatia, Kazakhstan, Morocco, Moldova, Mongolia, Montenegro, Russia, Romania, San Marino, Serbia, Slovakia, Slovenia, Turkey, Ukraine (You can find the list here.),
had COVID-19 in the past 6 months, and you have official proof of the illness and recovery in English or in Hungarian,
have a negative PCR test result (not older than 72 hours at the time of arrival) from the following countries: EU member states and/or candidate countries, OECD member states, NATO member states, Russian Federation, People's Republic of China, United Arab Emirates, Kingdom of Bahrein, Members of the Turkic Council (Azerbaijan, Kazakhstan, Kyrgyzstan, Turkey, Uzbekistan).

If you live in a dormitory, you have to make sure that you can spend your mandatory 10-day-long quarantine elsewhere! Do not even attempt to come to any of our dorms, because you would be risking all residents and dorm workers health and safety.
Rules to enter Hungary based on your travelling document:
If you are travelling

with a D-type visa

: 

You can enter Hungary the same way as a Hungarian citizen, with no restrictions. 

If you are travelling

without visa

:

From certain countries, you can enter Hungary without a visa. Please

make sure whether you need a visa

or not before travelling to Hungary.

If you are travelling without a visa, you need to prove that you are coming to Hungary as a student. For this reason, you must

submit a leniency form

on the Hungarian Police's website:

https://ugyintezes.police.hu/en/uj-ugy-inditasa

We have prepared a

guide

for it.

If you are travelling with a

valid residence permit

:

You can enter Hungary the same way as a Hungarian citizen, with no restrictions.

Entering Hungary with an expired residence permit is not possible. If your residence permit has expired, apply and wait for a D-type visa if it is a requirement from your country.
Necessary documents (everyone should have these documents at the airport):
Travelling documents

(passport, residence permit/ visa)

Student status certificate

(Neptun request: E027) or

Letter of Acceptance
Certificate to enter Hungary

(Download, fill in and print the "Certificate to enter Hungary" (you can find it in Neptun), according to this

page

.)

Police leniency form

(applying for it is obligatory if you are travelling without a visa, but it might be useful to apply for it anyway).
Neptun requests:
As soon as you arrive to Hungary, please fill in the

913_COVID-19

and the

E088 COVID-19

requests in Neptun. The university needs to know the details of your quarantine to process your scholarship.
At the airport
If you would like a mentor to greet you at the airport and guide you on your first trip to the city, send an email to imt@bme.hu with details of your arrival.
Below, you can find information on how to get to the city from the airport.
How to reach your accomodation from the airport

You can get a Taxi from the aiport, it is around 20-25 EUR or 6000 HUF.

You can catch the Minibus from the aiport, if you are 3-4 with your friends it is cheaper: https://www.minibud.hu

You can use public transportation. You have to buy at least a transfer ticket (530 HUF)
Public Transportation
Option A
It takes around 60-65 minutes to get to Visit Hostel. A simple transfer ticket is enough which costs 530 HUF (around €1.60).
From Liszt Ferenc International Airport, you have to take bus 200E to Kőbánya-Kispest station (this is the last stop).
From Kőbánya-Kispest station you have to take Metro 3 (or Metro 3 replacement bus on weekends) until Kálvin tér station. Due to renovations, you will need to change to Metro 3 replacement bus at Nagyvárad tér station – only on weekdays.
From Kálvin tér station, change to Metro 4 and get off at Móricz Zsigmond körtér station.
Visit Hostel

is a 2-3 minute walk from Móricz Zsigmond körtér.
Option B
It takes around 50-55 minutes to get to Visit Hostel. It is a slightly faster and less complicated way, but it is a bit costlier. You will need to purchase a special single ticket for the bus 100E and another single ticket. These will cost you 1250 HUF altogether, which is around €4. However, bus 100E is only available between 4:00 and 21:00 – if you arrive outside this time frame, please follow the steps of Option A.
From Liszt Ferenc International Airport, you can take bus 100E to Kálvin tér station.
From Kálvin tér station, change to Metro 4 and get off at Móricz Zsigmond körtér station.
Visit Hostel is a 2-3 minute walk from Móricz Zsigmond körtér.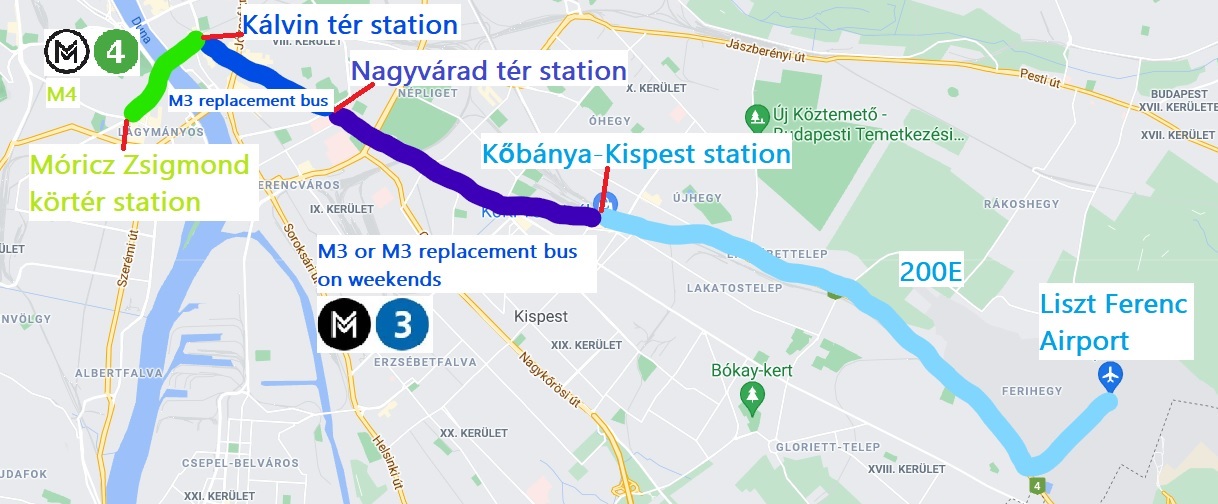 From Móricz Zsigmond Körtér you have to walk 3 minutes as you see on the map below.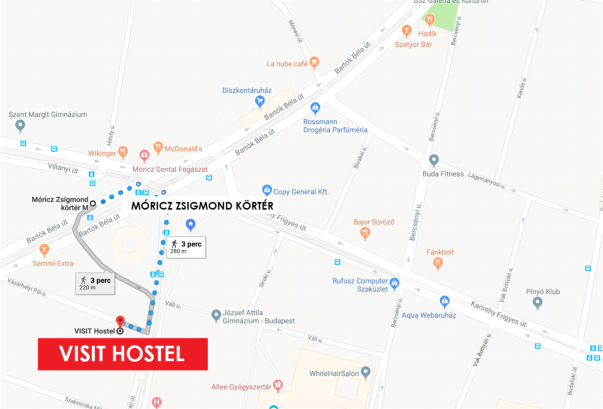 First steps
Once you arrive, you will probably need to get a Hungarian phone number. There are three major network service providers: Telekom, Telenor and Vodafone. All three of them have similar quality and prices, so the choice between them is down to personal preference. Telekom and Vodafone also provide broadband, so if you are movong to a flat, you may get a better bundle deal with them.
Contact us
If you have any questions please check the FAQ or contact us using the form below! We aim to provide answers as detailed as possible, which can take some time. Please be patient, we cannot respond instantaneously.