Healthcare is not free in Hungary, and neither is medicine. As a Stipendium Hungaricum scholarship holder, you are entitled to have a TAJ card (social security card) that grants you free access to Hungarian public healthcare. However, some doctors may not speak foreign languages, so you might need to rely on Hungarian-speaking friends or mentors to translate.  
The university also provides private health insurance. They can book you English-speaking doctors that can prescribe you the right treatment or refer you to specialists, all free of charge. If you get a prescription from a doctor, you may even get a refund for the medicine. You just need to get an official invoice indicating your full name. Please be aware that the call centre can be a bit busy at times, but still, they should be your primary contact whenever in need of medical assistance. Keep calling them until they answer your needs! If you haven't signed one, please do so as soon as possible!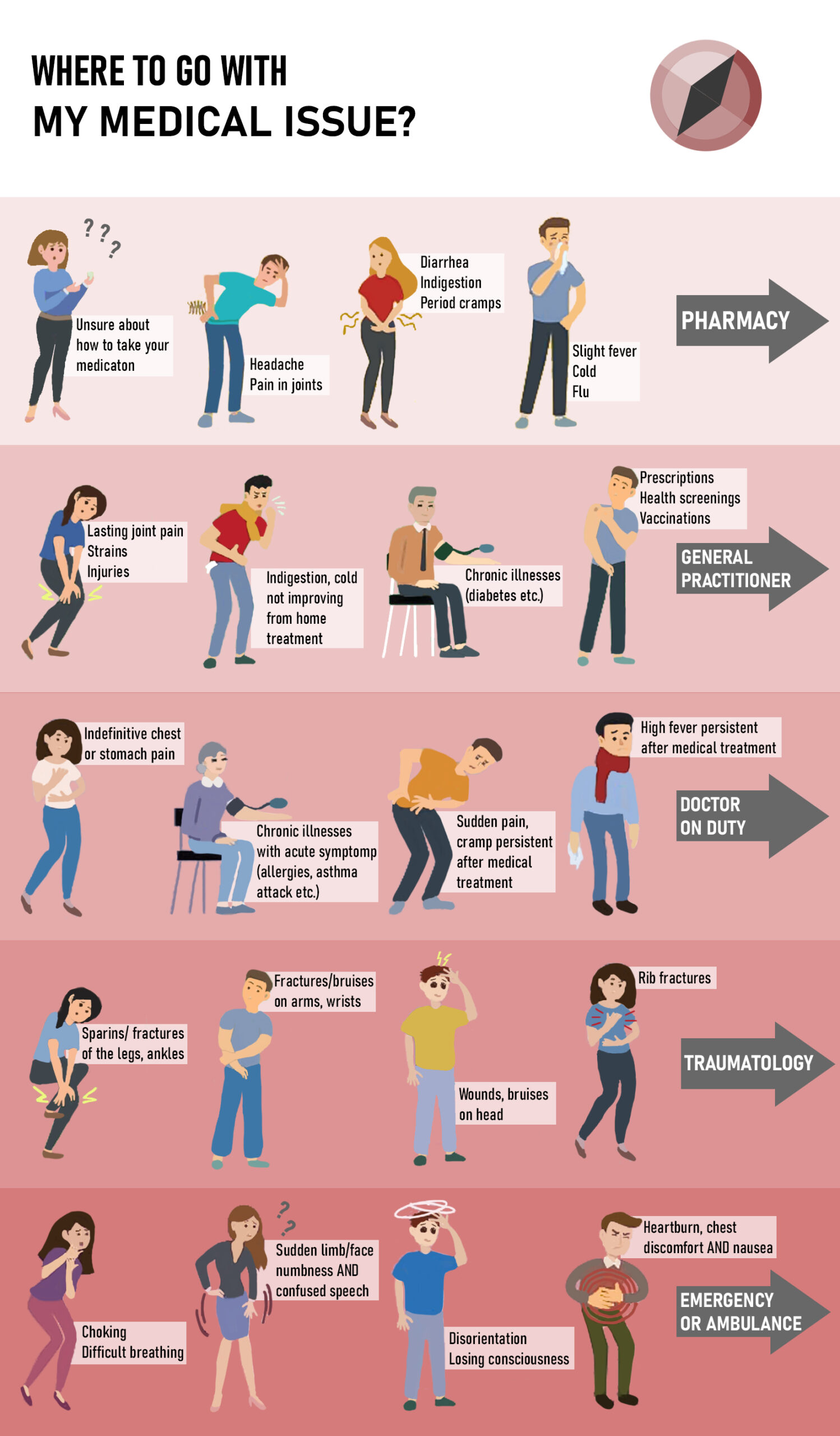 What sort of health insurance do you have?

The private insurance's call centre should be your primary contact whenever you need to see a doctor! They cover most medical needs and always arrange appointments with English-speaking doctors! Sign your contract in the Stipendium Hungaricum Student Office on the ground floor of building R (weekdays, 9-12).
Click here for more info!
You need a valid TAJ card to get access to comprehensive healthcare in public hospitals and clinics. If you do not have this card yet, apply as soon as you can. 
Other health related information

If you want to register for a vaccine or just want to know more about the current situation, click the button!
Neither TAJ nor most private insurances can provide you with adequate psychological treatment. However, the university offers such services.
In emergency situations you can find here how to find quick medical help!
General tips for a healthy stay in Budapest
Dress appropriately for all weather conditions. Hungary has 4 separate seasons, a warm (sometimes hot) summer, moderate (and rainy) spring and autumn, while winter can get very cold, so prepare with clothes in advance accordingly! You can easily catch a cold if you do not pay attention to it!
Wash your hands regularly, especially after the use of public transport.
Spend plenty of time outside and exercise regularly.
Consume plenty of fruit and vegetable, and follow a balanced diet.
Don't worry if you catch a cold, it is common and completely natural. Before visiting a doctor, try home remedies, such as warm tea with honey and lemon, cough syrups, and throat lozenges (sore throat candies).
Always follow doctors' instructions and take the prescribed medicine in the recommended quantities!
Contact us
If you have any questions please check the FAQ or contact us using the form below! We aim to provide answers as detailed as possible, which can take some time. Please be patient, we cannot respond instantaneously.