Which help do I need?
Throughout our lives, we have all gone through difficult situations, experienced difficult times. There are situations that can be solved more easily with the help of a trained professional. The picture below will help you decide what kind of help you need. If you are not sure who to contact, we can help you figure it out. Send us an email to imt.medhelp@bme.hu or leave a message through this form.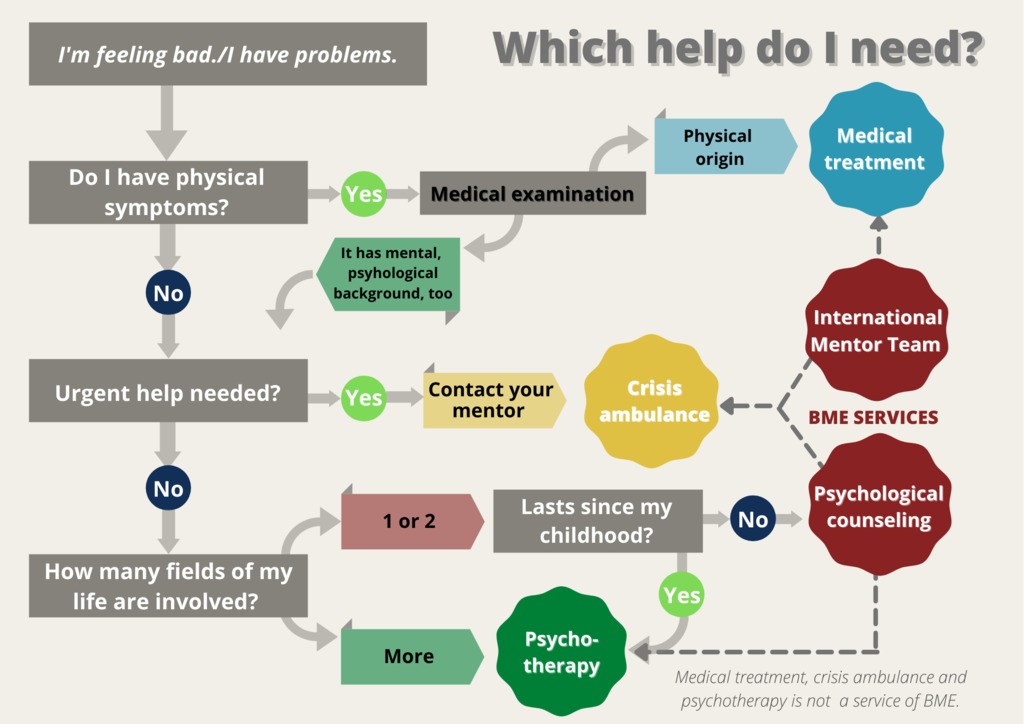 Psychological counselling
We all experience challenging situations in life that are difficult to cope with. Your previous solutions do not work anymore and you have not found new ones yet. The purpose of counselling is to help you get past these barriers.
It is worth asking for help if you have the following problems: 
Relationship problems (family, friend or partner relationships)

 

Too much anxiety in certain situations

 

Adjustment problems

 

Coping with loss

Issues related to 

studies

Difficulties in controlling emotions and 

anger

Behavioural

 problems (eating, sleeping and sexual disorders)

 
Psychological counselling is available for all students at the campus of BME for free. If you would like to know more about individual psychological counselling visit the website of HSZI or register for counselling sessions directly here.
For BME students, any form of psychological counselling is free of charge.
Application for counselling
Visit the website of HSZI – the organization arranging counselling at BME.
Psychotherapy
In some cases, psychological counselling might not be a fitting choice for you. If you experience any of the following problems, it is worth asking for help at psychotherapy: 
Long-standing or returning 

difficulties

 

Difficulties in emotion regulation, 

self-control

, abuse, self-harm

,

 etc.

 

Having a diagnosis of mental or 

behavior

 

disorder

 (phobias, depression, borderline personality disorder

,

 etc.

)

 

Experiences and losses of childhood

 

Multiple questions of self-knowledge

 
Please note that these services are most of the time not covered by either the TAJ card or the Generali private insurance. However we know some organizations that offer these services for an affordable price. If you wish to learn more about it send an email to the MedHelp Team.
 Clinical treatment
Due to an already existing diagnosis or unexplainable physical symptoms, you might need a medical examination or medication. 
Contact the MedHelp Team if you experience any of the following problems:
Unexplainable physical symptoms (

stomachless

, sleepless

, etc.

)

Long-term chronic 

symptoms (

eczema, hair loss

, etc.

)

 

Physical relatedness of problem not 

impeachable

 (stomachache, gynecological problems

, etc.

)

 

Need of medication for existing 

diagnosis
If you have a Hungarian address, your GP can give you a referral to the psychiatrist of your district.
Crisis ambulance
If you are going through a severe emotional crisis or experience any suicidal thoughts, please contact the MedHelp Team immediately or Péterfy Sándor Hospital Crisis Ambulance Department.
Contact them in case of severe emotional crisis.
Crisis ambulance at Péterfy Hospital
Contact us
If you have any questions please check the FAQ or contact us using the form below! We aim to provide answers as detailed as possible, which can take some time. Please be patient, we cannot respond instantaneously.