Registration to BME
This step is fully handled by the university. They will send you an e-mail.
This page only contains some general information about the process.
Initial Registration
Your registration will be online this semester, please stay tuned for more info.
For the registration you will need the following:
Valid passport and its photocopy
Letter of Acceptance
Transcripts and diplomas of your previous studies and their photocopies
Proof of required English proficiency (only for MSc and PhD students)
Letter of Award (only for Stipendium Hungaricum students)
Receipt of paid health insurance fee (only for fee-paying students)
1 passport size photo
Each document will be carefully checked at registration. In case of falsified/fake documents or documents with questionable origin, registration will be refused from the applicant. After your registration, your student status certificate will be given to you which is a necessary document for your residence permit application at the Immigration Office.
For the most up-to-date information, please always check the website of the Central Academic Office of BME: www.kth.bme.hu/en
Health insurance information
Stipendium Hungaricum Scholarship Program provides you with health insurance during your studies. During the first semester, you must apply for both Generali insurance and a TAJ card.
Complete Guide to Registration on Neptun
This document is based on this webpage for ease of information: https://www.kth.bme.hu/en/
It is constantly being updated, its contents are the most accurate. In case this guide differs from the webpage, the webpage has the correct information. 
Register for a semester by activating your status on Neptun.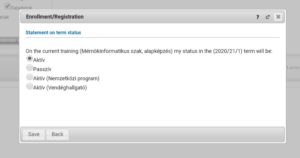 You have to do this to be able to register for courses (we will be referring to subjects as courses in this guide interchangeably)
If you are here for your whole degree, select Active. Otherwise, select Active (International program)
How do you know which subjects to choose?
Your semester is carefully planned by your faculty. Check your faculty page for students and find the "program description" or "studies roadmap" to find out what the plan is for your studies. This is a recommended set of courses to take every semester that will ensure you finish your studies on time if you follow it.
These are the sources for program roadmaps of each faculty. We are in the process of collecting the sources, if you know yours then we will be grateful if you can support us by sending it to share it with others.
VIK: https://www.vik.bme.hu/en/students/
It is a pdf that looks sort of like this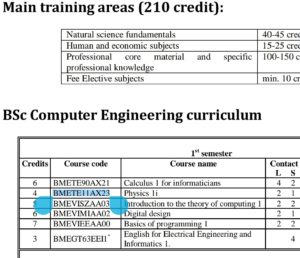 Note the course code and the class types. They will be important soon.
How do you register for subjects?
Now that you know which subjects to choose, go to Neptun>Subjects>Register for subject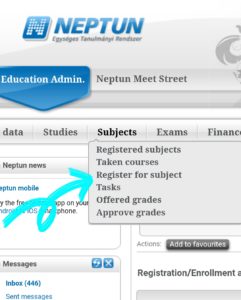 Here you can search your subjects by code and click on register.
Check the boxes of the classes that are appropriate for you.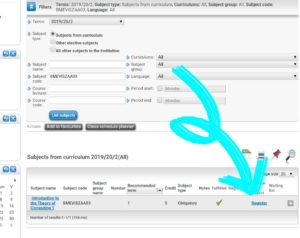 Make sure that you only register for the English language subjects (or the language of your studies). Subjects can have different sort of classes, the three main ones are 
Lectures

Practices

Labs or Laboratories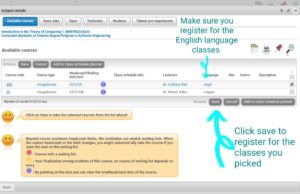 Some courses have all the first three types of classes (e.g. programming has lectures, practices and labs) some courses only have one or two (e.g. history only has lectures). Make sure you check the box of one of each type of class for every subject.
There is another special type of class called "Only for Examination". You can only register for this if you have already taken the class but you need to take the exam without attending the class (eg. if you failed the class exam previously). Do not register for this if you haven't attended the class before.
Once you have ticked all the necessary checkboxes, you have to click the Save button.
Do this for every subject in your semester plan mentioned above.
There are also subjects that can be chosen freely even if they are not on your plan or even if they are not subjects from your faculty, such as language subjects (German, English, etc), sports classes, economics, history, and so on. Feel free to register for any subject that interests you if you have the chance and no time conflicts arise with your compulsory subjects.
FAQ
Why am I already registered to some subjects?
Some faculties will automatically register you to a certain subject. If this is the case you will receive a notification, if not then register for it manually as shown before. You can also check your registered subjects on Neptun
How many credits do I need?
You should be aiming for around 30 credits each semester to finish your studies on time. Also, if you earn no more than 36 credits in a year, you will lose your scholarship.
Contact us
If you have any questions please check the FAQ or contact us using the form below! We aim to provide answers as detailed as possible, which can take some time. Please be patient, we cannot respond instantaneously.