On April 30, 2022 BME held the first ever spring ball for international students. 
The ball was organised by the Directorate of Student Services (HSZI) and the International Mentor Team (IMT), and was the first ball at the university that was dedicated specifically for, scholarship holding students from foreign countries. The students were very excited about the ball, many of the participants wore their own national formal outfits. The ball was attended by over 500 people who enjoyed a uniquely varied program.
Starting off the evening, the CreativeFunCreation band welcomed the guests. After most of the students had arrived , the opening ceremony took place, with speeches by the Director of Student Services, Ákos Németh, and the HÖOK (National Conference of Student Governments) mentor of the year, Anousa Symoukda. This was followed by performances from two incredibly talented Stipendium Hungaricum scholarship students, Ghada Bourguiba, leader of the newly formed international student club Sollertia, and Achref Mekni, winner of the Mentorfactor held in Pécs in 2022. Both sang beautifully and created a great atmosphere with their songs.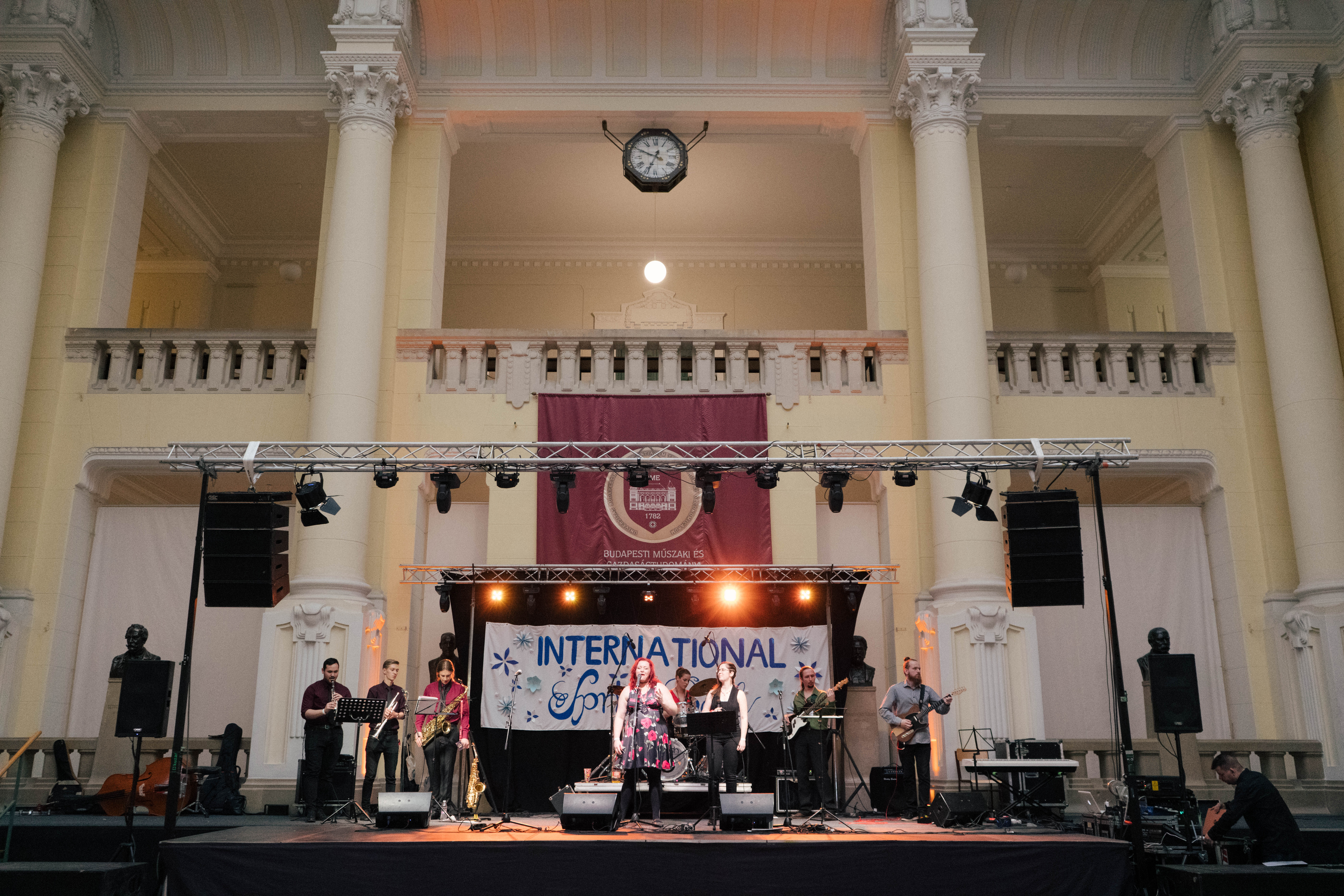 The CreativeFunCreation band welcomes the guests at the start of the ball.
One of the most exciting parts of the ball was the awards ceremony. The audience had voted, and was eagerly waiting to find out who would be crowned prom king and queen. Many campaigned enthusiastically right up to the awards ceremony, which paid off. Over 1200 votes were cast for the nominees, and in the end, Burak Altintas and Chebet Ronoh were crowned as the prom king and prom queen. The students also voted for the IMT (International Mentor Team) Mentor of the Year, Andrea Mihail, and the HÖOK Mentor of the Year, Ashwin Varma.
The awards ceremony was followed by a talented jazz band, The Koncz Kriszta group. The members of the band are all students of the Music Academy's Jazz Faculty, and were assembled specially for the occasion, much to the delight of the participants. They were followed by the BME folk dance group, who showed off their skills and then pulled in the audience members, which was a huge hit among the students. Everyone enjoyed dancing together and the atmosphere was amazing.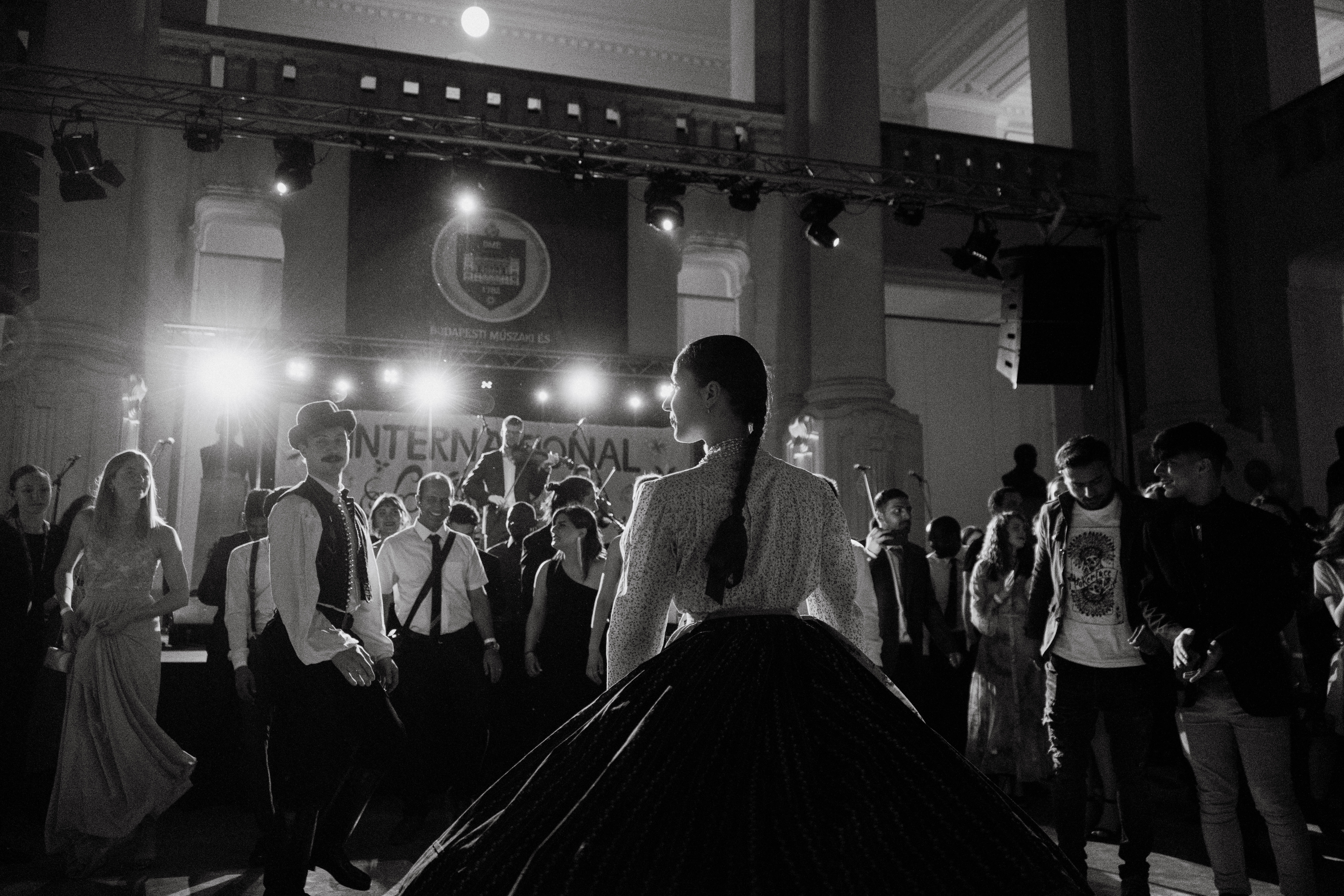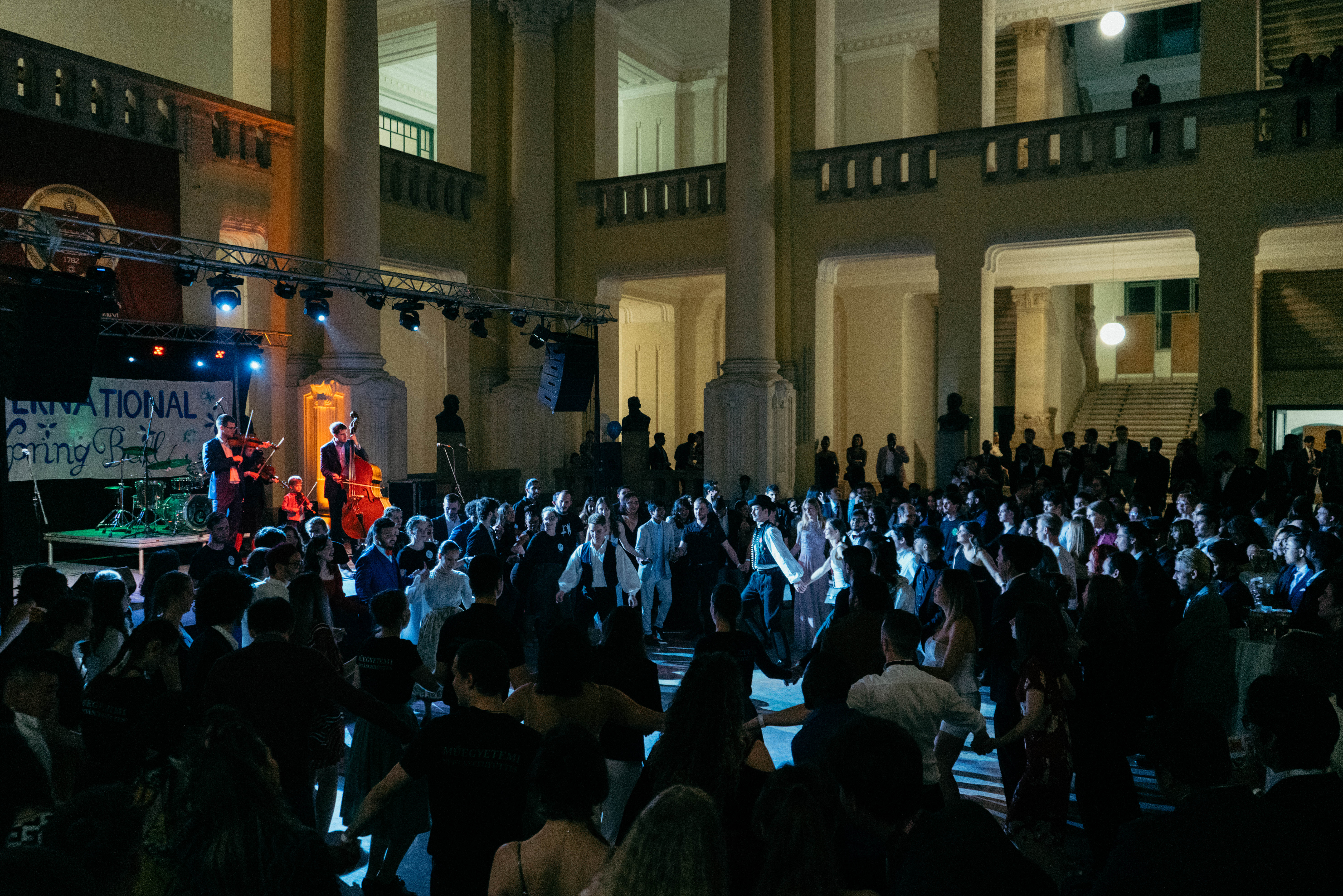 Dance led by BME folk dance group.
The ball also featured a performance by the Vadhús band. They electrified the room with their geronto-punk, rock-and-roll music. The evening ended with Dj Palo, crowning this extremely special and unique Spring Ball.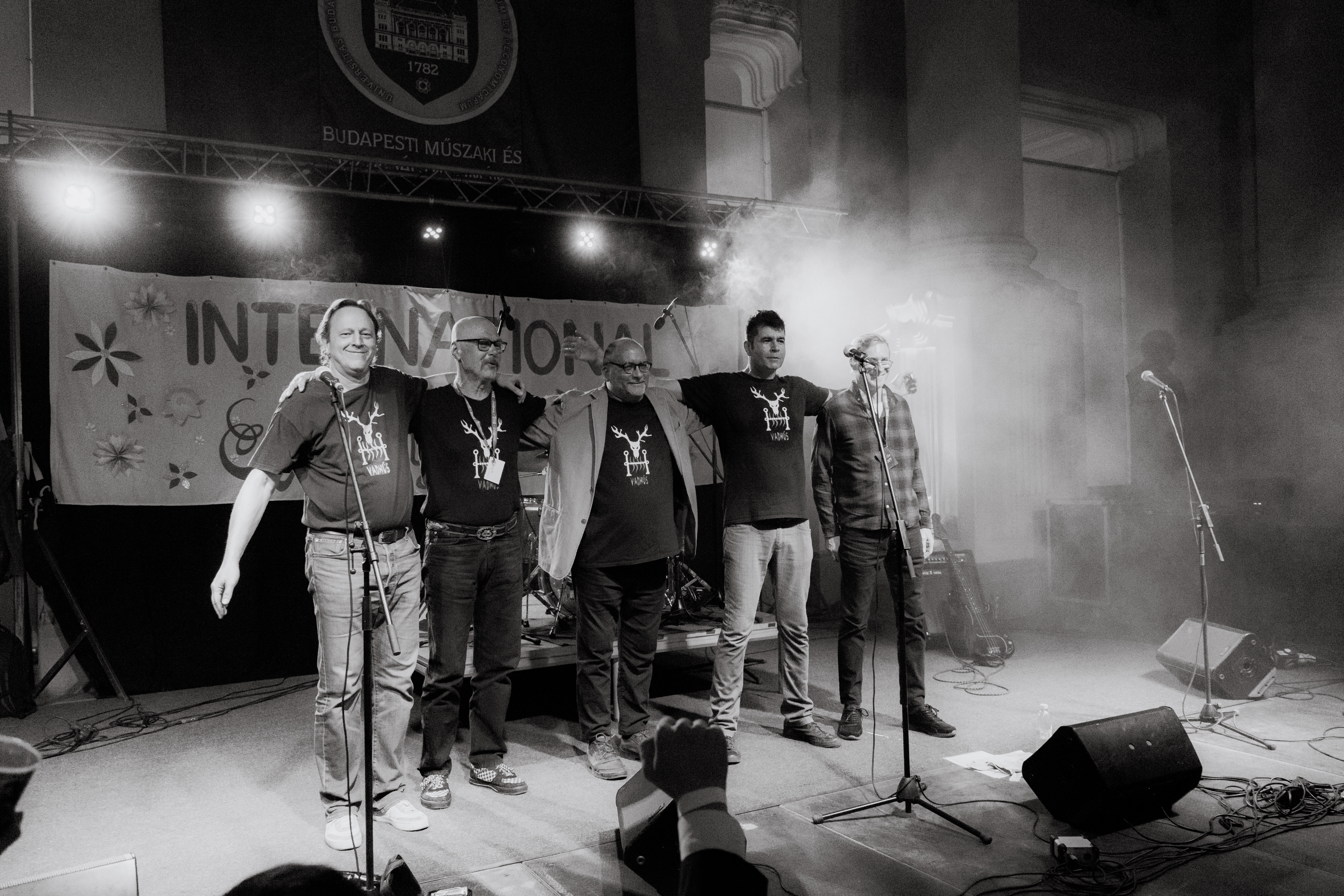 The Vadhús band created the atmosphere for the rest of the evening.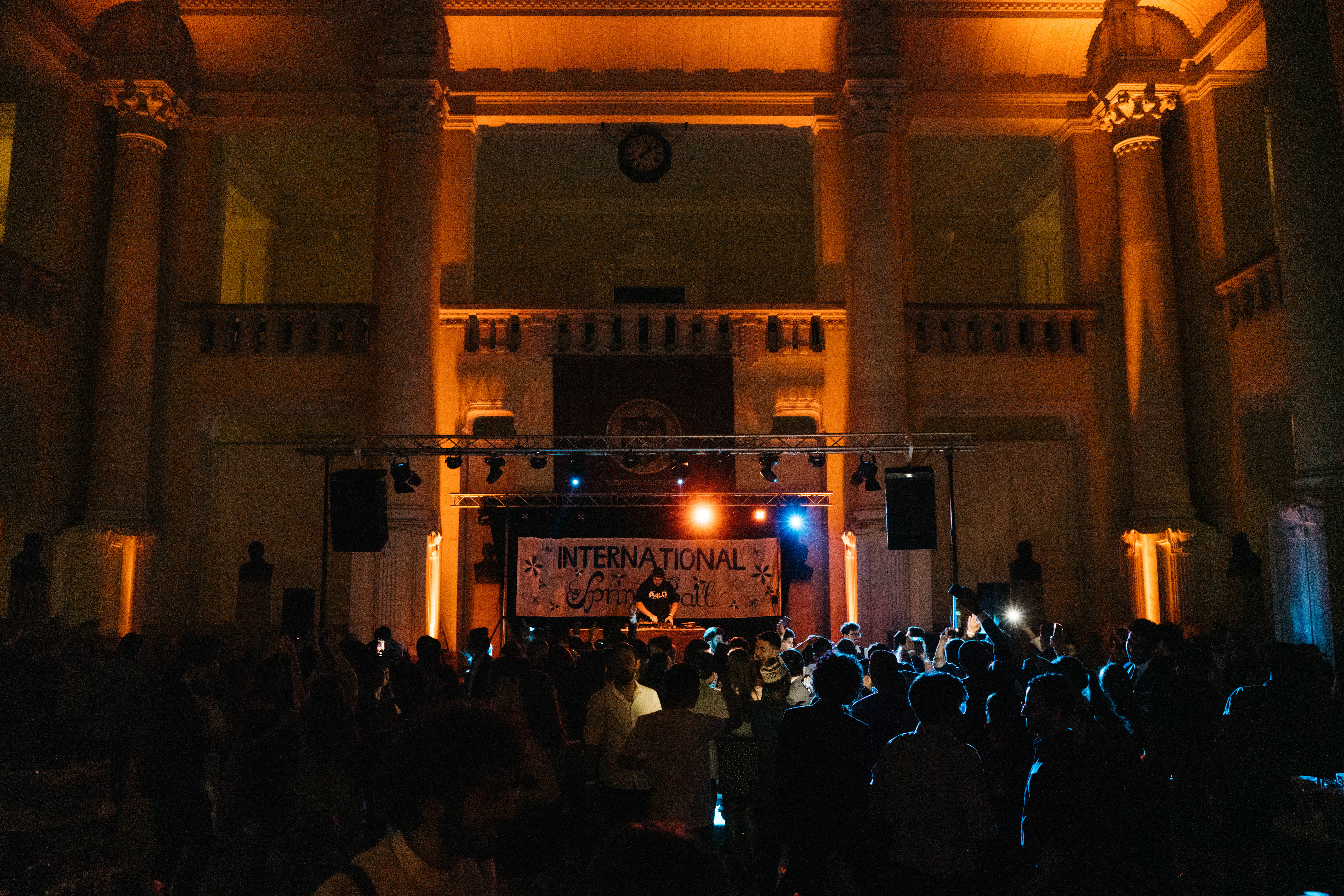 Dj Palo closed the ball.
The article was written by: Nikolett Majsa
the photos were taken by: Anousa Symoukda